Today, we are going to talk about imposter syndrome.
With 70% of people experiencing imposter syndrome at some point in their lives, I am sure that we can all agree that it has held us back from achieving our goals.
Let's talk about someone who didn't suffer from imposter syndrome. Have you seen Inventing Anna?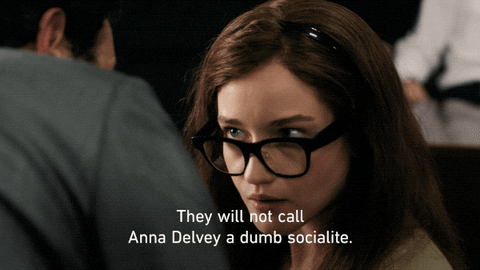 Based on a true story of a twenty-something socialite, who successfully posed as a wealthy German heiress under an alias in New York City, the plot follows an unapologetically ambitious woman and would-be entrepreneur (or con artist, depending on how you look at it).
Pushing all morals aside, Anna Delvey did something incredible in real life. With no money, contacts, friends, or family nearby, she built a version of her life that reflected her desire to succeed.
Until the law caught up with her, nothing stopped this woman from achieving her goals.
Now, I am not saying it's time to buy a burner SIM and stop paying hotel bills but asking yourself, 'What would Anna Delvey do?' or WWADD? for short, might help you kick imposter syndrome to the kerb.
3 ways to overcome imposter syndrome
A positive mindset
It is easy to get caught in a negative spiral, especially when experiencing setbacks. Having a positive mindset that focuses on abundance rather than scarcity is a great way to start moving through negative feelings.
Determine your uniqueness
You have something that only you can offer your clients, so be proud of it. Take some time to think about what makes you and your business unique. If you don't know where to begin, ask repeat customers to review your business and see if any common themes crop up.
Stop comparing your journey with others
We've all heard the saying, 'Comparison is the thief of joy' but switching off from comparing your business journey to others isn't easy. Remember, it is OK to unfollow accounts that no longer inspire you and if you're feeling overwhelmed, take a break from Social Media.
And, on the days you are feeling really stuck, remember to ask yourself WWADD?
If you enjoyed the content in this post, sign up for the Bright Leopard Marketing weekly newsletter and get content marketing and business tips straight to your inbox.
There are many organisations offering help to Ukraine. The British Red Cross has a Ukraine Crisis Appeal to help protect those in need. Tap the link to donate or find out more.