You spend hours researching what to post and creating valuable content for your website but what's next? Great question.
With content consumption growing every year, businesses and personal brands can no longer upload a blog post or feature to their website in the hope of their ideal client seeing it.
Instead, once you create a valuable piece of content, there are four main things you must do to ensure you maximise its potential.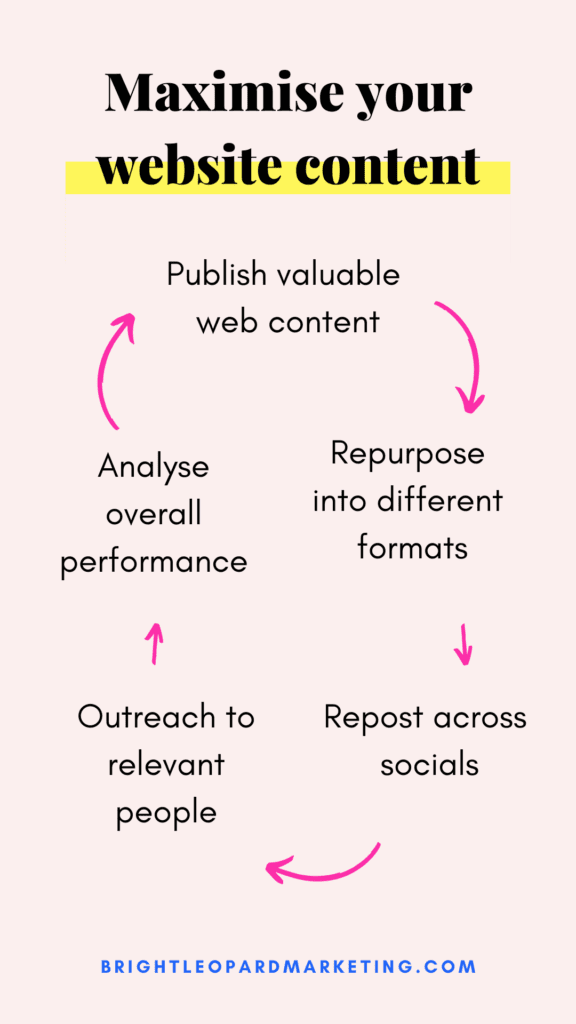 Repurpose your content
You will hear this word a lot in the content world, which is for a good reason. For example, let's say you have written a 1,000-word in-depth article for your website. You'll have a few avenues to repurpose your words to maximise your ROI.
Break down long-form content into bite-sized chunks and post it across your social accounts. Consider changing its format to video, infographics, podcast, webinar, or even a newsletter.
If your content is packed with incredible insights, turn it into a PDF and use it as a lead magnet to attract new clients.
Not sure who your clients are? Access the Buyer Persona worksheet.
Syndicate across socials
The next step goes hand in hand with repurposing. You/your company should let people know when you post new content.
As of 2022, the global average social media usage has reached 147 minutes per day. Reposting your content across social media is a great way to increase traffic to your site and get in front of buyers in the place where they spend time online.
Note that you can post more than once about the same content.
Outreach
Time-consuming but effective. Let relevant news sources or individuals know about your content by dropping them a quick email, sending them a DM, or tagging them in the post. There is a fine line between being nice and being spammy, so make sure you approach this without expecting them to do anything in return. Most of the time, people will be happy to share valuable content that includes them.
Analysis
After following these steps, make sure you don't overlook the importance of reviewing how the content was received. Deep dive into your analytics but don't get too caught up on vanity metrics. Instead, look for conversions and which avenues delivered tangible results.
Keep an eye on patterns, as this will shape your long-term strategy.
I hope you have got a kick out of this content marketing post. If you have found this helpful, sign up for the weekly Bright Leopard Marketing newsletter and receive actionable tips straight to your inbox.