Canva is great for beginners and this handy post will explain how to use Canva templates to enhance your artwork for your business.
This free and easy-to-follow Canva for Beginners PDF is for anyone who is starting their journey on Canva or has an account but wants to understand how key features work to improve their design skills – this guide is focused on creating Social Media posts.
I am all about making life easy, so I have provided all of my Canva hacks to help you speed up your design process, and learn the simple tricks of the platform to make your designs pop!
Access your Canva for beginners PDF
If you are wondering, 'How do you learn Canva for beginners?', I have got your back! Simply fill out the form and I'll send you a copy of your Complete Beginner's Guide to Canva via email.
Downloading this Canva for beginners PDF will help you to speed up your design process and learn some of the most helpful key features.
What's in the Canva for beginner's guide?
Elements, Backgrounds, Fonts, Colours, and basics explained
Customising Templates to suit your brand
How to use Frames
How to resize designs across multiple social media platforms
Introduction to Advanced tools
Ways to save time like creating a Brand Kit for your business
Free vs Pro – which option is right for you
My top tips and Canva hacks for beginners
And more…
Is Canva good for beginners?
If you are just starting out on your design journey, Canva is good for beginners. In fact, it is a great choice for small businesses that need to create artwork but don't necessarily have the budget to hire a designer or a freelancer to work on their brand.
Canva is one of my favourite tools. It is simple to use and is a cost-effective way to amplify your business by creating sleek, on-brand designs for your company which you can use across your social media accounts and website, plus you can create high-quality designs for print including flyers, business cards, brochures, and more…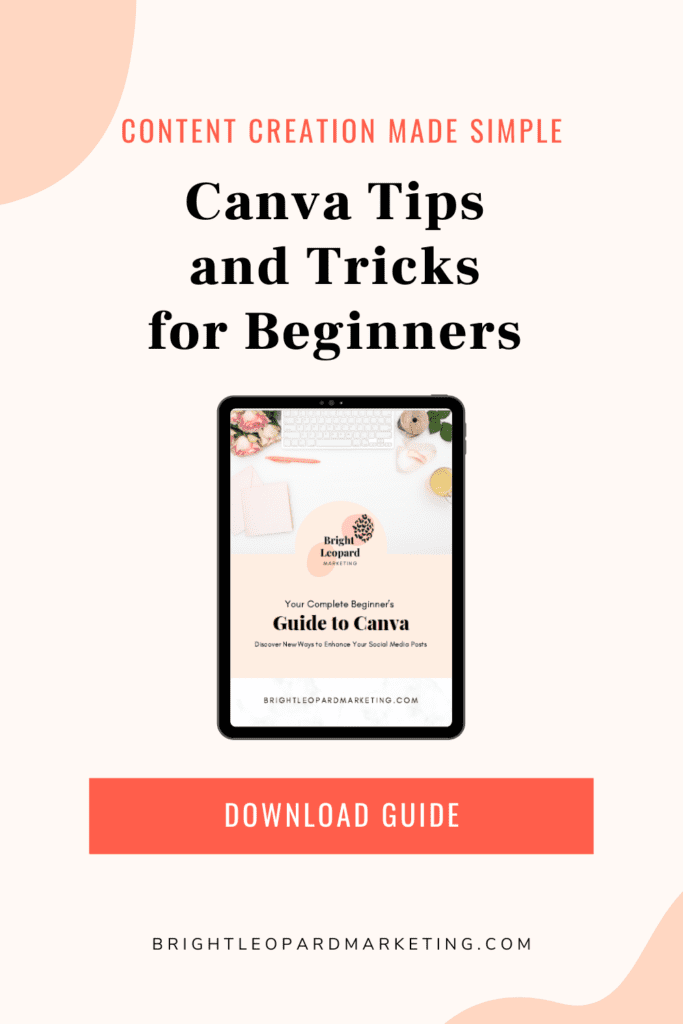 How to use Canva for beginners
Head on over to Canva.com to register for a free account or begin a paid subscription. Depending on your design requirements, you might be able to create everything you need using a free account however, it does have its limitations.
If you aren't ready to commit to a paid subscription, you can always sign up for a free trial to see whether it benefits you and your company.
To get the most out of your free pro trial, decide what content you want to create over the next month (or longer) and then batch create throughout the trial. If you feel that the professional version works better for you and your business, you can sign up for a rolling monthly contract. Either way, Canva Pro is considerably cheaper than hiring a designer!

Once you have created your account, refer to the step-by-step guide within the Canva for beginners PDF. Take your time to get to know the platform's features and take note of the how-to steps.

The best way to master Canva is by spending time creating designs for your business. Ensure that you use the same fonts (up to three is recommended) and the same colours throughout your designs to create consistency and build brand recognition. You can create a Brand Kit within Canva to have easy access to your fonts and colours for your company.

There is so much more to say about creating beautiful and professional designs for your company within Canva. Simply access the guide and start creating exceptional content for your business.
If you are looking for a hands-on approach to creating content for your business, contact Bright Leopard Marketing to see how I can help you build a brand you love that conveys your passion for your business.