The year 2023 isn't too far away, which makes it the perfect time to start thinking about the future of your email marketing campaigns. After all, you want to be as effective as possible when you send emails to potential clients, so you have to do your best to stay on top of trends in this space. Fortunately, you don't have to work in an office all day to keep track of these trends — just check out this helpful roundup of some of the most exciting changes coming down the pipeline!
9 Email Marketing Trends for 2023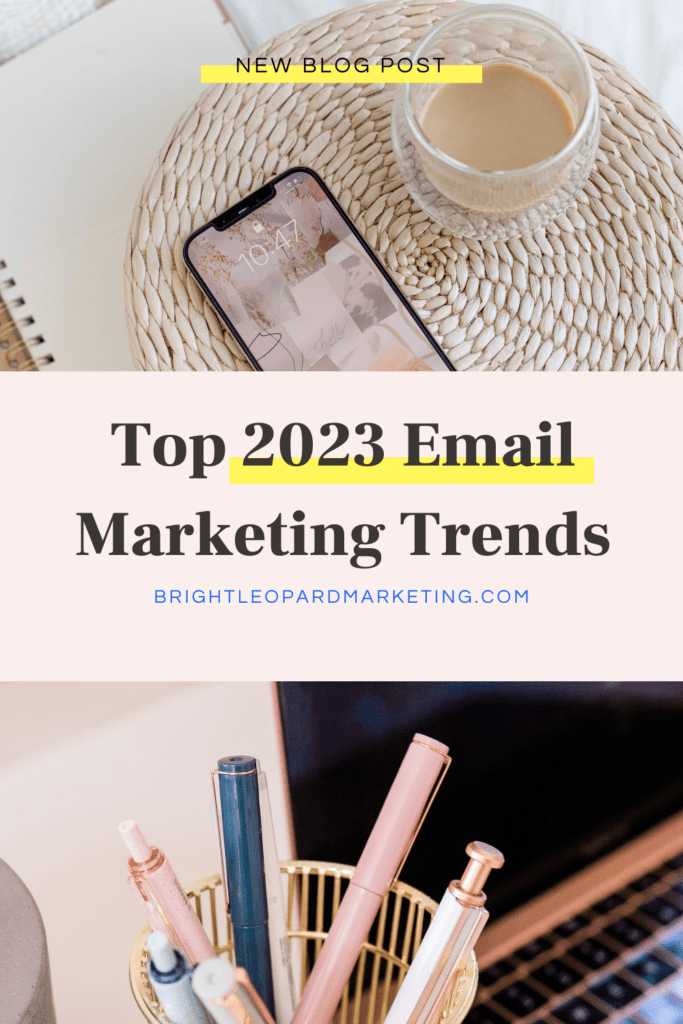 1: Use sophisticated automation tools
Email marketing automation tools are becoming increasingly popular, and ConvertKit is leading the way with some extremely sophisticated automation tools. You can use trigger campaigns based on user intent, segment your lists based on specific behaviours or preferences, create timed campaigns, so you don't overwhelm people with too many emails, and develop data-driven campaigns by importing and analysing customer data. These email marketing trends help you stand out in your client's inboxes. And they help you create a better online experience for all your customers.
Try ConverKit for free using this link to access your trial.
2: Use animated GIFs
Animated GIFs are one of those things that many people claim to hate yet secretly love. They're fun and can easily add personality to your posts, but make sure you use them sparingly—overuse will have a negative impact on your brand. Not every post or business is suitable for animated GIFs. For example, something like your 2022 budget report probably wouldn't suit them.
3: Send multimedia mails
Email marketing is constantly evolving, with trends emerging and others fading away. One trend that seems set to remain is that of multimedia emails. This is especially true when it comes to emails with videos—video is a huge trend that will continue. Why? Because email clients like Gmail won't stop making videos load faster and at a higher quality. Expect video content, then, to become an even more common component of your work!
4: Start following your subscribers on other platforms
One of my favourite tips for building relationships with my subscribers is following them on other social platforms, like Instagram, LinkedIn, or Pinterest. This not only tells your subscribers that you're listening, but it also shows them you care about them and their social lives—which will make them more likely to listen to your advice! But only use this approach if it makes sense for your business; follow subscribers on social platforms but don't stalk people!
5: Offer more personalised content
Personalisation will help you build better connections with potential clients. Use your data, such as name or birthday dates, to offer value and a unique buyer journey. You might be tempted to save time and money by using autogenerated, generic content—but you're doing yourself a disservice when you do so. Engagement is one of those key metrics that should be on every marketer's radar, starting with personalisation and relevance!
6: Consider doing sponsored campaigns
If you're a blogger who focuses on SEO, affiliate marketing, or any other content-related business, consider reaching out to businesses that align with your company and see if you can be included. They may connect you with relevant brands or offer you paid to write sponsored posts—and if they don't, there are plenty of blogging networks that pay writers and may be interested in your content.
If your business is more corporate, search for industry-related newsletters or publications where you can sponsor an ad or pay for advertorial submissions. You'll connect with people with similar interests and increase your content's reach to a new audience.
7: Write with personality
Your brand voice will help establish your unique value proposition. But it goes deeper than that. A strong brand voice will help you attract a loyal tribe of followers who resonate with your brand on a human level. People buy from people, after all. When you can connect with them on a genuine, human level, you're more likely to inspire them to take action—whether it's purchasing your products and services or simply recommending your company to their friends.
8: Include customer stories
One of your biggest advantages over less-savvy competitors is your existing client base. Leverage reviews from existing clients to show people how you have solved problems and changed their businesses for the better. This is particularly effective when someone from one industry uses your services in a completely different sector, where they can see your product or service in a new light, and you can provide something novel to that market too.
9: Don't spam. Ever.
Email marketing is a slow and steady game, so those who wait can outlast those who spam. After all, you might be able to send a ton of emails overnight, but it's much harder to get people to read them. Plus: bulk emails and cutting corners might seem like they save time, but they won't work.
Need help with your 2023 email marketing strategy?
Book a 1:1 call today and discover how Bright Leopard Marketing can help your business grow with a targeted email marketing strategy.
Like this post? Get content and email marketing tips straight to your inbox by signing up for the Bright Leopard Marketing weekly newsletter.