With 2022 just around the corner, Bright Leopard Marketing looks at what digital marketing trends businesses should implement to ensure steady growth.
Before we hit the play button on 2022, let's take a moment to look back at the top digital marketing trends in 2021 and see what role they will play over the next 12 months.
Digital marketing trends 2021
Yes, you read that right. To move forward, we need to cast our minds back to what worked (and what didn't work) in 2021. And what a year it has been.
Over the course of the year, local SEO has played an important role in getting businesses noticed online, with a Google My Business Profile at the forefront of placing companies in front of potential clients.
Product and service-based businesses can benefit from this trend (which is likely to continue in 2022) by ensuring they claim their business online through Google. Naturally, once you've authenticated your profile, you must ensure your company's details remain up to date (opening times, contact details and replying to reviews) to help your clients and potential customers reach you in-person/online.
2021 was undoubtedly a big year for two of the world's mainstream players. Following a global Facebook outage in October where all Facebook-owned platforms went down for six to seven hours, Facebook mysteriously morphed into the Meta just a few weeks later.
What's more, Apple's iOS 15.2 update successfully upset every iPhone user by moving the search bar to the bottom of the screen. Plus, an additional major update in the shape of Mail Privacy Protection has essentially made tracking the performance of email marketing significantly harder by preventing companies from being able to analyse email campaigns properly accurately.
When it comes to paid advertising, a wave of new changes introduced by Google, Facebook, and Apple's operating system have also caused some industries to rethink the way they generate leads.
Content marketing certainly had its day in the sun throughout 2021; however, with platforms and apps rewarding users who consistently create new content with the highest reach potential, companies have to work overtime on their content strategy to stand out from the crowd.
Video remains one of the most in-demand content types in 2021, and with the introduction of captioned videos, inclusivity is 100% a trend that is here to stay (high fives). More on this later…
Unless you have been hiding under a rock, you would have noticed a wave of changes to Instagram, ranging from desktop posting to new ways to edit Reels. You can find out more about the 2021 Instagram updates here.
Finally, Clubhouse – remember when we were all desperate to get an invite to Clubhouse? Personally, I think Clubhouse has died. Unless you have a unique networking opportunity or you want to position yourself as an expert speaker in your industry, I would skip Clubhouse in favour of Instagram Live videos or podcast appearances.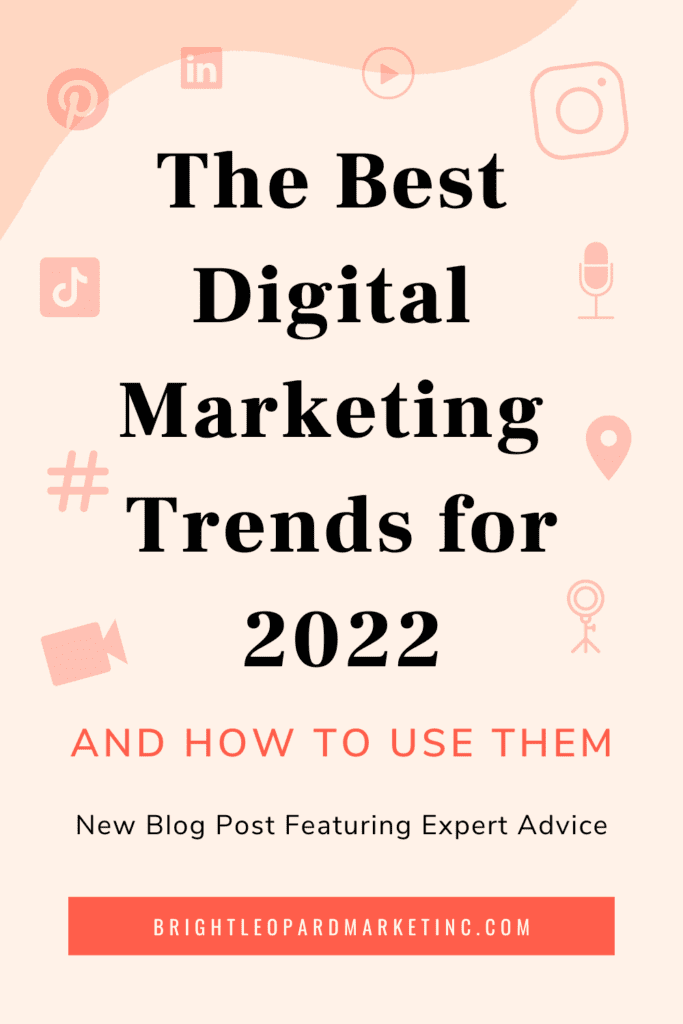 Future marketing trends
So, what's going to change in digital marketing in 2022?
Well, let's start with eCommerce sales. With more people shopping online than ever before, the pandemic contributed to a whopping 46.5% year-on-year increase in UK eCommerce sales in 2020, according to eMarketer. Throughout 2021, 20.5% growth has been recorded, pushing eCommerce sales to £185.22 billion.
It's undeniable that lockdown supercharged online spending patterns forever. Even less tech-savvy generations (hi, Mum) changed their consumer habits following new skills picked up through the pandemic, with many continuing to shop online rather than in-store.
Websites that offer an easy user experience and excellent customer care will benefit from consumer shopping trends.
The importance of local SEO
Building a user-friendly website and providing an excellent service or product is one thing; being found by your ideal clients online is another.
As mentioned earlier in this article, if you haven't already, claiming your business on Google My Business Profile is a great way to get your business noticed by those searching for a business or service in your area.
Just make sure that you keep your details accurate (holiday opening times, for example) and, when you receive a review, ensure that you respond in a timely and appropriate fashion.
B2B and service-based businesses can go one step further by creating a professional Company Profile on LinkedIn.
In a study conducted by HubSpot of 5,000 businesses, traffic from LinkedIn generated the highest visitor-to-lead conversion rate at 2.74% – almost three times higher than Twitter and Facebook.
Creating a Google My Business Profile and LinkedIn page will likely increase your reach and credibility over the next 12 months for businesses with a lower budget.
Voice search
Moving forward, voice searches are likely to become more than finding out what the weather will be like, playing music, and asking for directions (in the kitchen and out and about).
The iPhone's latest software update has certainly pushed voice search into the forefront of people's minds by adding an easy-to-access option within its search bar.
And it seems that voice search is a trend that continues to be on the rise. In 2020, 30% of internet searches were done without a screen, further highlighting the need for websites to optimise their content for voice-friendly searches (think question and answer style content).
Voice search is also directly linked to local searches for a business, with 46% of users performing voice searches to gather info about local businesses on a daily basis.
Here are some excellent SEO tips to make sure your website is ready for voice-search customers for those who want to say ahead of the game.
Video remains king
According to Ofcom, Brits will spend almost one-third of their waking hours watching TV or online videos in 2020. And, having completed every level of Netflix over the last 12 months, the world as a collective wants more video content.
With the big screen and TV unable to keep up with demand, people actively seek video content online. Not just on YouTube, think TikTok trends and the numerous changes Instagram has implemented in Reels and Stories to support better video content.
No matter which Social Media Platform your business connects with clients on, you will have to start getting more comfortable being in front of the camera or at least making video content for your channel.
If you are going down this route, I highly recommend that you invest in a Ring Light or a Microphone like the ones on these links to help you create professional video content from your home or office.
Social Media Strategy
If you are still unsure about where your ideal client hangs out online, check out this handy SM demographic infographic (that's a bit of a tongue twister).
2022 will continue to see businesses that post consistent, valuable and relevant brand content to increase their reach across their chosen Social Network, so keep at it. If you need any help plotting your strategy for 2022, connect with me to discuss your options.
Email marketing
I love email marketing. Companies who have grown their email marketing list probably feel disheartened by Apple's iPhone security changes; however, I think it is time to start thinking about email marketing stats as a vanity metric.
Instead of focusing on open and click rates, savvy marketing folk will need to measure tangible results like sales and shopping cart reconversions to showcase their results.
Clients who love you or your company will naturally still want to receive email communications from you, so keep creating valuable content and sending them delicious deals, and your email marketing strategy will continue to thrive in 2022.
Podcasts
Finally, businesses should also not forget about the power of a high-quality podcast. More people than ever tuned into podcasts during the lockdown, and although listening frequency may have changed, the demand for content in this format is certainly going nowhere fast.
If you are thinking about starting a podcast in 2022, access your free copy of this simple how-to guide.
Right, that's all, folks. I hope you have enjoyed this post about 2022 digital marketing trends, and I trust that it has given you some ideas of ways to promote your business online.
Sign up for the weekly Bright Leopard Marketing Newsletter for the latest digital marketing news and receive actionable advice straight to your inbox every Friday.